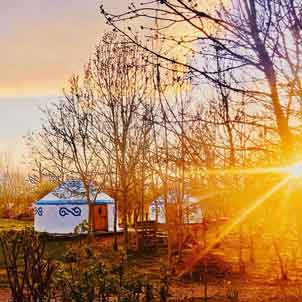 ABOUT PLUSH TENTS YURT VILLAGE
Plush Tents is an award winning, sustainable yurt village nestled in the picturesque South Downs.  Lovingly built each spring and catering to those longing to disconnect from their busy lives, experience the raw beauty of nature and deepen your bonds with partners, family, and, most importantly, yourselves.
A carefully curated offering of comfortable accommodation, delightful communal facilities, tranquil woodland, access to a mouth watering range of food deliveries and your own personal, outdoor kitchen gives you the option of pure escapism, or to be treated to our own brand of informal luxury.
The venue sleeps 60 in sumptuously decorated yurt accommodation and private hire includes the whole of the landscaped woodland including a wood fired hot tub, large yurt with capacity of 120 people, fire pit, treehouse kitchen, teepee, children's play area and a multitude of outdoor spaces.
Off grid and proud to be the guardians of this beautiful oasis of calm, guests are welcomed looking to experience a new kind of eco living, whilst having access to the creature comforts so appreciated at home.