Bluedot Festival Information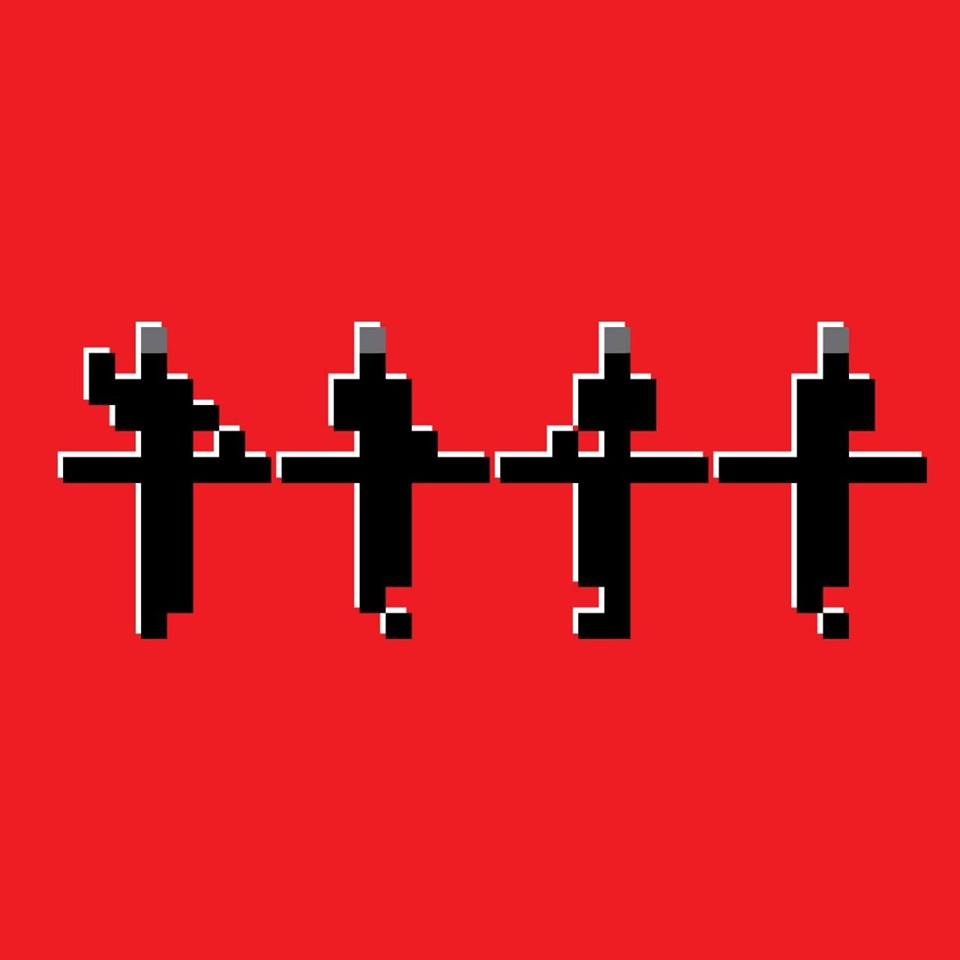 GENRE: MUSIC, SCIENCE AND COSMIC CULTURE
DATES: 18TH – 21ST JULY
LOCATION: JODRELL BANK OBSERVATORY, BOMISH LANE, CHESHIRE, SK11 9DW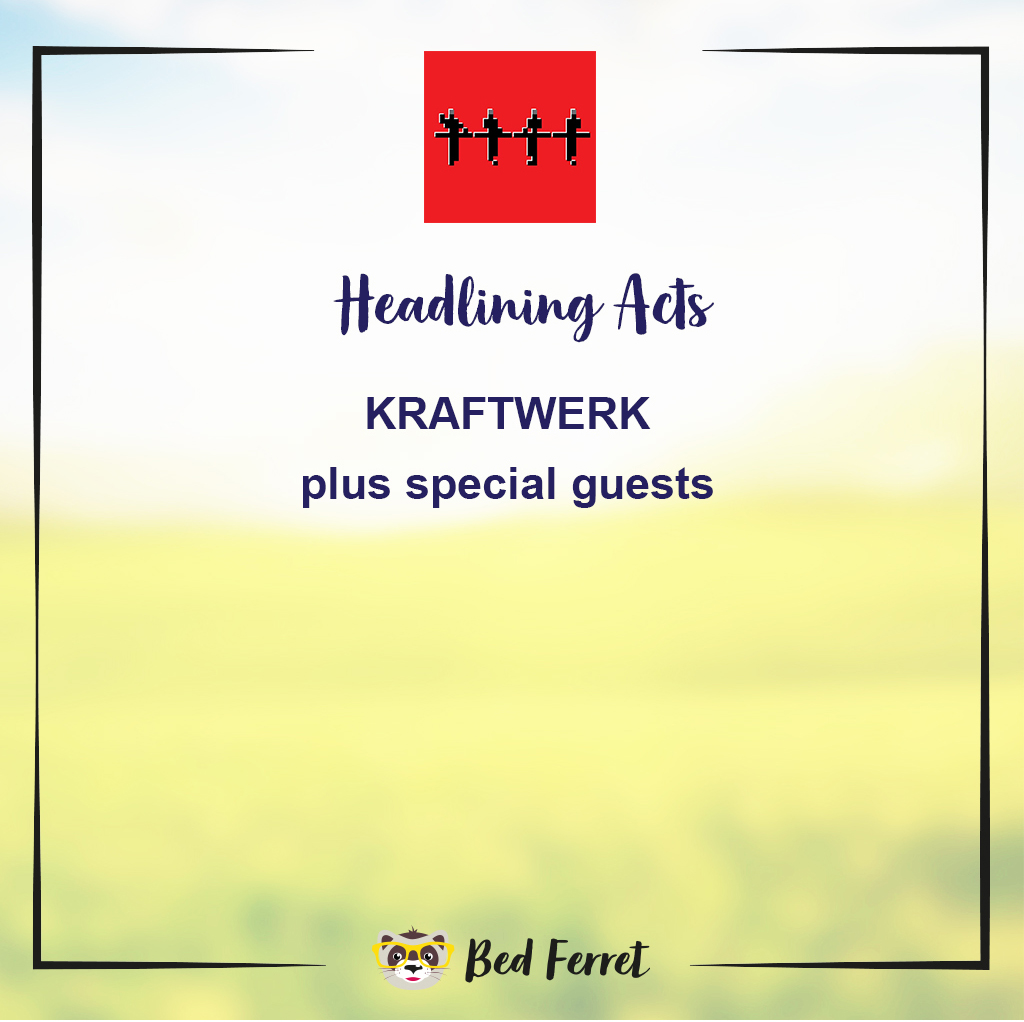 WHY CHOOSE BLUEDOT FESTIVAL?Bluedot is an award-winning weekend of discovery at the grounds of the Jodrell Bank deep space observatory. Set against a backdrop of the iconic Lovell Telescope, bluedot combines a truly stellar line-up of music with a ground-breaking programme of live science experiments, expert talks and immersive artworks.
In an era of political divisiveness and environmental uncertainty, bluedot aims to cultivate a unifying celebration for citizens of the world. Its message is loud and clear: 'look again at that dot. That's here. That's home. That's us.' (Carl Sagan, 1934—1996).
The festival combines Music, Science & Technology, Comedy, Cosmic Culture, Film and Gaming, Mini-documentaries and Talks.  Headliners announced so far include Kraftwerk 3-D, with previous headline artists including The Flaming Lips and Booka Shade, and interviews with Gary Numan on how his music career began, if there is life elsewhere in the universe and what he would say to those extra-terrestrials.
The festival has various facilities for festival goers including:
Phone charging
A general store supplying milk, toothpaste, toilet rolls etc
Safe storage facilities at the campsite hub
A wide range of delicious foods from around the world
Drinks ranging from cocktails to real ale
First aid
Welfare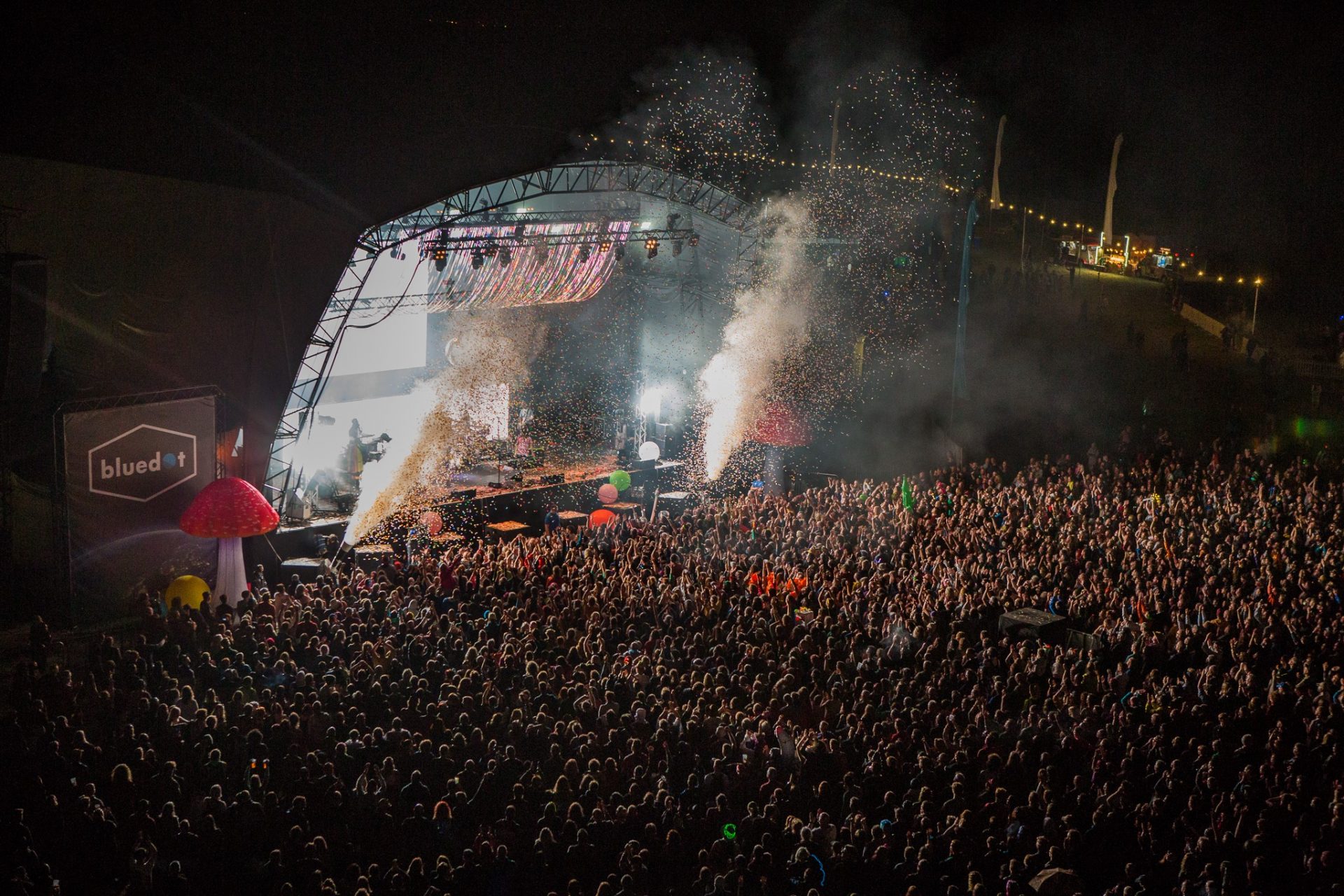 ACCOMMODATION OPTIONS
Bluedot has a wide range of accommodation options: 
Standard Camping
Family Camping (located within the standard campsite)
Tangerine Fields (pre-pitched dome tents located with the standard campsite)
Live In Vehicles
Accessible Camping
Colony Boutique Camping which includes a number of accommodation options plus free showers and dedicated toilets.
Camping is on a first come first served basis except for the pre-booked options which are Tangerine Fields, Colony Boutique Camping and Live In Vehicles.
(Showers are available for a charge outside of the Colony Boutique Camping area).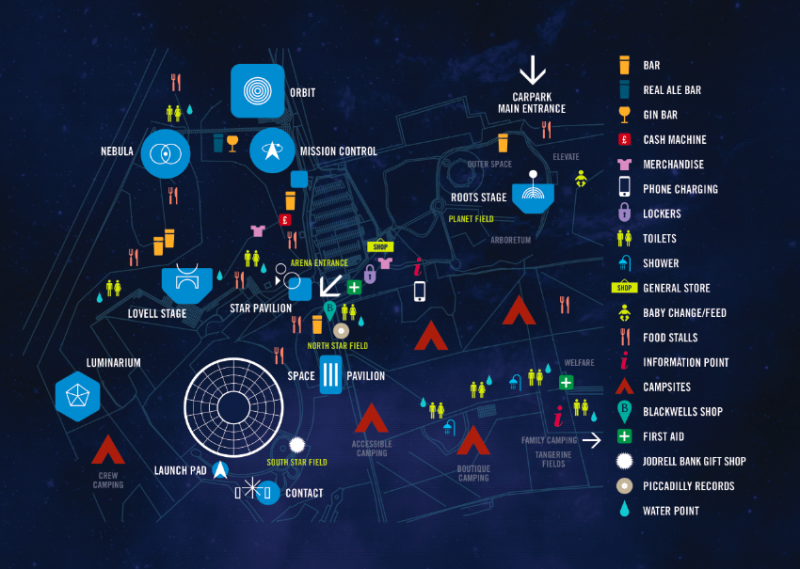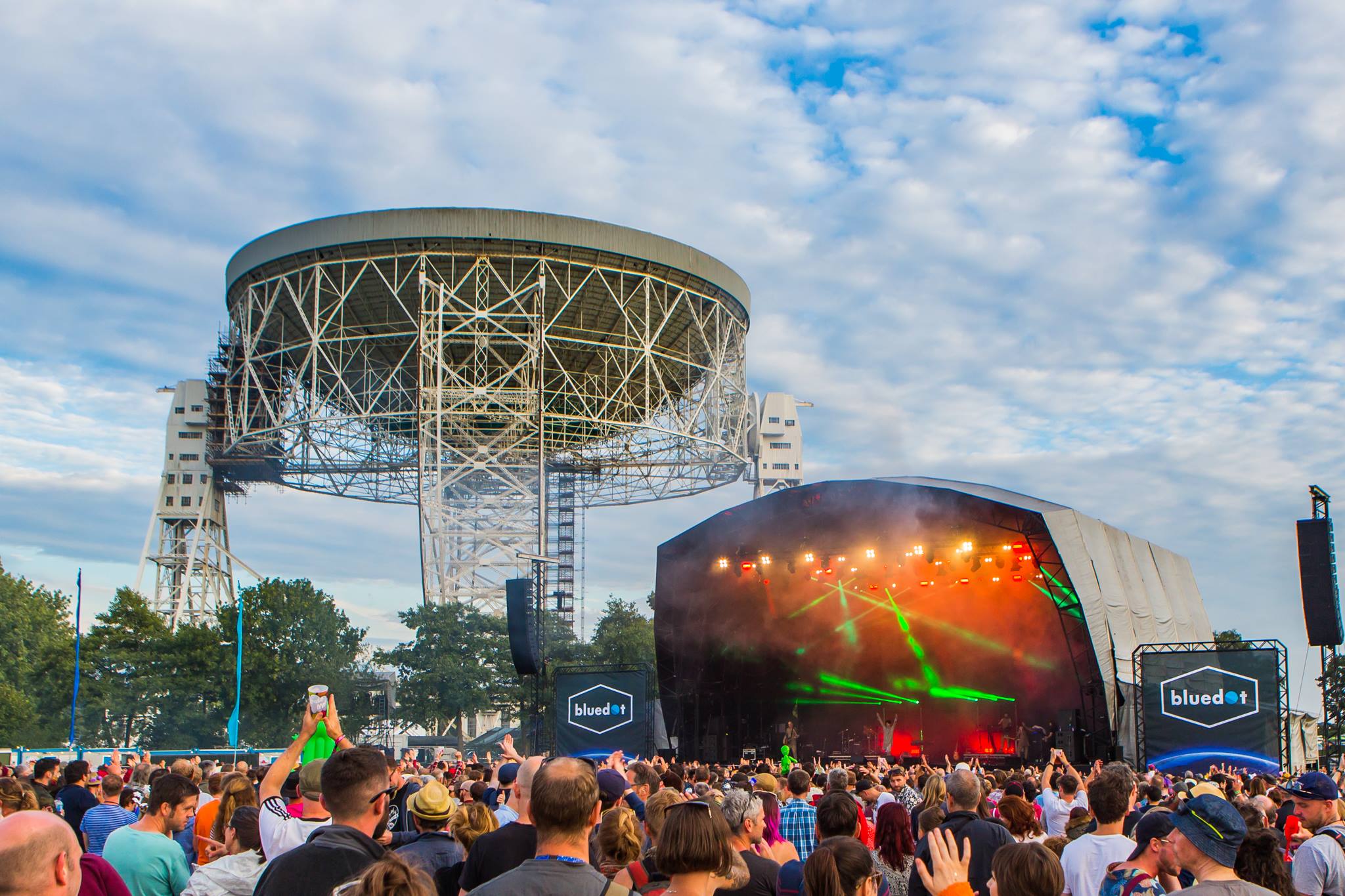 OTHER INFO
HOW TO GET THERE
Bluedot is held at Jodrell Bank Observatory, Bomish Lane, Cheshire, SK11 9DW (please make sure to use this postcode).
Travelling from the East / South
Leave the M6 at Jct. 18 Take the A54 exit at the roundabout signposted Northwich / Chester / Middlewich / Holmes Chapel
Continue on Middlewich Road / A535
At the roundabout take the 2nd exit onto Knutsford road
Immediately after, take the first exit onto Macclefield Road / A535
BLUE GATE ENTRY – Please turn left onto Bomish Lane
BLACK GATE ENTRY – Please enter the site from A535
GREY GATE ENTRY – Please enter the site from A535
RED GATE ENTRY – Positioned directly opposite Bomish Lane
Travelling from the West
Join A34 Turn right onto Bollington Lane signposted Preston, Chester, Holmes Chapel
Turn right onto Chelford Road / A537 signposted Preston, Holmes Chapel
At the roundabout take the first exit onto A535 signposted Holmes Chapel
BLUE GATE ENTRY – Turn right onto Bomish Lane signposted Jodrell Bank
BLACK GATE ENTRY – Please continue on A535 and the entrance is on your left
GREY GATE ENTRY – Please enter the site from A535
RED GATE ENTRY – Positioned directly opposite Bomish Lane
If you are travelling by train then Macclesfield train station is the best option with a coach direct to the festival from Macclesfield opposite the train station at 11:15AM Thursday or Friday.
WHERE TO PARK
Secure parking on site is available in advance for the weekend at £20.  Pay on the day car parking tickets are available but will be more expensive.
HOW TO BOOK FESTIVAL TICKETS 
To book festival tickets or car parking just head straight to: