Product: FESTIVAL HYGIENE PACKS
venues: Festivals and Events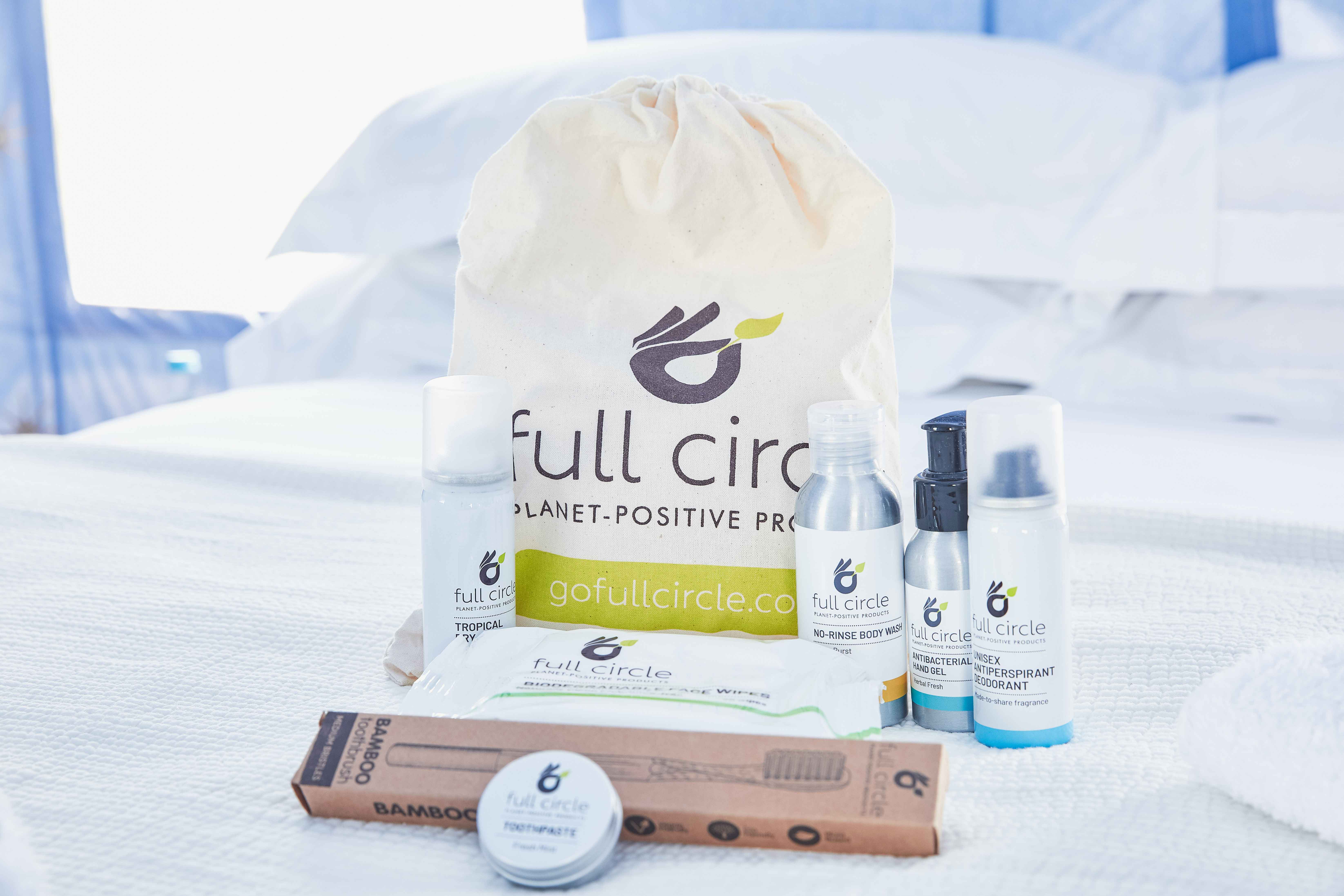 ABOUT FULL CIRCLE
Full Circle have created a re-usable and waterless eco-friendly hygiene pack to help reduce the amount of single-use plastic and water consumption at camping festivals.
In addition every purchase made has a purpose and two fantastic charities benefit from a donation for every pack purchased.
Charity: water – which is a non-profit organisation bringing clean and safe drinking water to people in developing countries. With your help their aim is to fund 4 entire community projects in 2019.
The RAW Foundation which helps to educate, engage and empower young people to move towards sustainable consumption and production.
WHAT  DO THEY PROVIDE?
All products come in a re-usable cotton jute bag which includes essential products you require to stay fresh and clean including:
50ml unisex antiperspirant in a recyclable aluminium can

Fresh Mint toothpaste in a zero-waste reusable aluminium pot

Biodegradable bamboo toothbrush

50ml antibacterial hand gel in a zero-waste reusable aluminium bottle

100ml no-rinse body wash in a zero-waste reusable aluminium bottle

50ml tropical dry shampoo in a recyclable aluminium can

20 x plastic-free biodegradable face-wipes

Biodegradable eco-towel

100% recycled Eco-leaf toilet paper
Most of of the products are sustainably sourced and from natural ingredients, all made in the UK, non-animal tested and vegan friendly, they are either reusable, biodegradable or recyclable which is great for the environment. The pack should last 4 days and 3 nights based upon an average application of twice per day.
WHERE CAN YOU FIND FULL CIRCLE?
Full Circle are supplying many of the main festivals in the UK this summer.  To purchase a hygiene kit for yourself Click Here.