Glastonbury Festival Camping and Glamping Accommodation
Glastonbury Festival Camping and Glamping 2022
GENRE: MUSIC FESTIVAL
DATES: 22– 26TH JUNE
LOCATION: Worthy Farm, Pilton, Somerset
WHY CHOOSE GLASTONBURY MUSIC FESTIVAL?
Glastonbury Music Festival describes itself as the "largest greenfield music and performing arts festival in the world" and ranks as a must for all festival goers.  In 900 acres, the festival is set around different areas so there's something for everyone.  From the main stages to more relaxed, chilling, and acoustic areas.  There are also family areas as well as the stone circle to watch the sun rise.
GLASTONBURY FESTIVAL CAMPING ACCOMMODATION OPTIONS
There're several camping and glamping sites located outside of the main festival (and please remember if you're booking you glamping or camping accommodation with us then you must have a Glastonbury Music Festival ticket as well:
Sustainable Camping
Just a short walk from Bronze Gate this site offers a sustainable option for festival goers.  With a mix of accommodation, including recyclable cardboard tents, environmentally sustainable facilities, plus power generated on site.  This site is a short walk from Bronze gate and has a pitch your own option if you're bringing your own tent.
Bell Tent and Lotus Belle Boutique Camping
This luxury, boutique offering is located a short walk from Pink gate and has a shuttle running to Bronze gate.  The tents come with real wooden beds, memory foam mattresses, Egyptian cotton sheets and hypoallergenic down duvets.  The site has a bar and restaurant, plus hot tubs, massage and even live TV coverage of the Festival if you're taking a short break.
Portobello Tents inspires everything you could want from a luxury festival experience.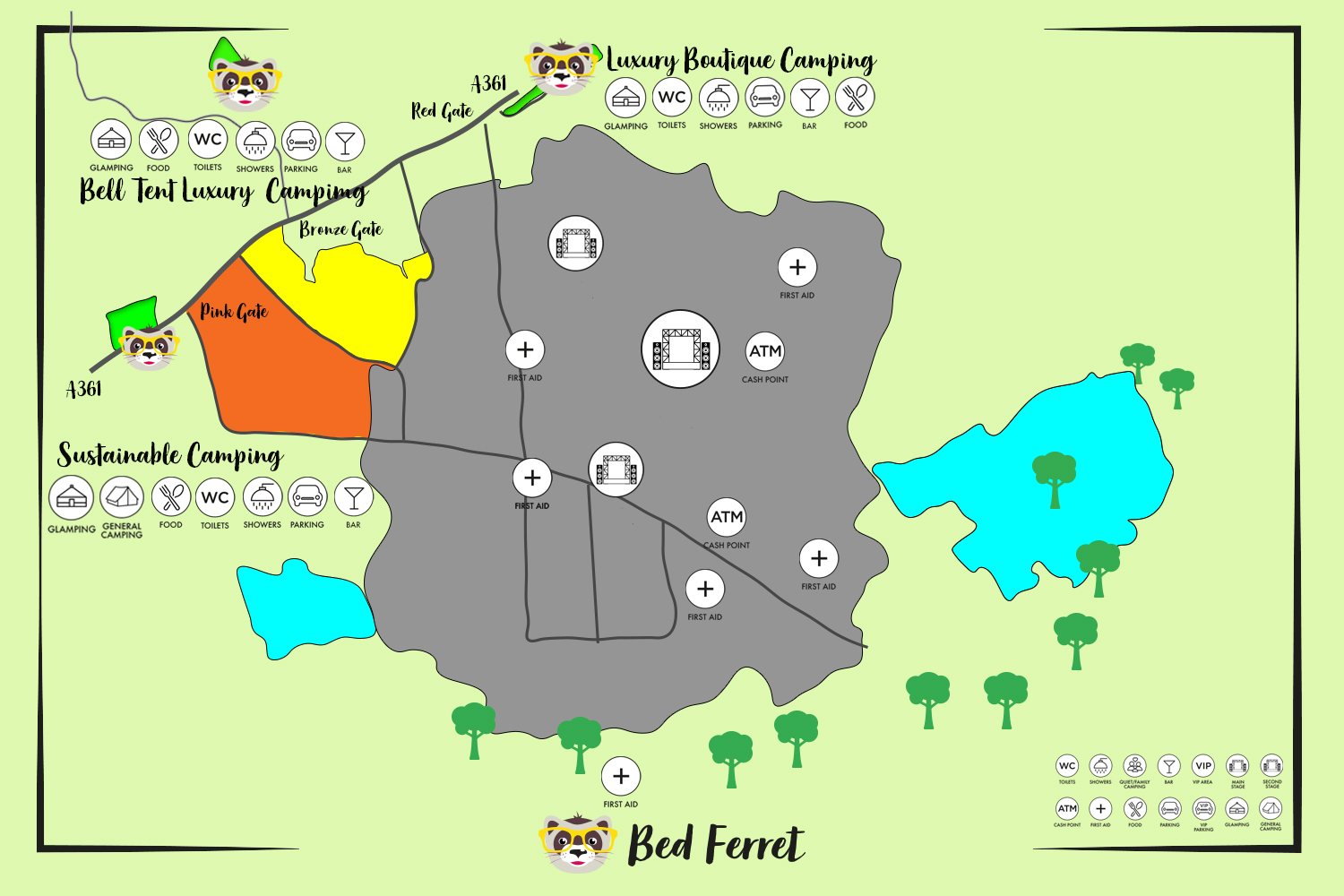 Safari Tents
Unfortunatly these beautiful Safari tents at this lovely campsite have all sold out for 2022.  They'll be back again for 2023.
Luxury Boutique Camping
Choose from a range of luxurious boutique camping options for Glastonbury, all with luxury loos and shower and even some with en-suite facilities.
Set within a beautiful and peaceful glade, experience this five-star accommodation with incredible bedrooms and access to luxury bathrooms, set a 10-minute walk from Gate A and 15 minutes from Gate B.
There's blissful pampering, invigorating wild swimming in the lake, and food and beverages supplied by the award-winning Tom Blake formerly head chef at River Cottage.  He and his team have won countless awards and are loved and lauded by critics and customers alike.  Expect an innovative menu led by the finest and freshest West Country produce.
OTHER INFO

HOW TO GET THERE
Worthy Farm, Pilton, Somerset.
Directions to Glastonbury Music Festival can be found here at their official site.  Please remember if you're travelling by car to approach your camp site or car park from the correct side of the festival.  Trying to travel round the festival using local roads is incredibly difficult and causes delays.
WHERE TO PARK
Parking is available at the Festival Carparks for £45, which are located around the perimeter of the Festival.  At the offsite campsites parking is available with your camping or glamping ticket
HOW TO BOOK EVENTS
To book tickets for Glastonbury Festival go to the Offiicial Site