Isle of Wight Festival Information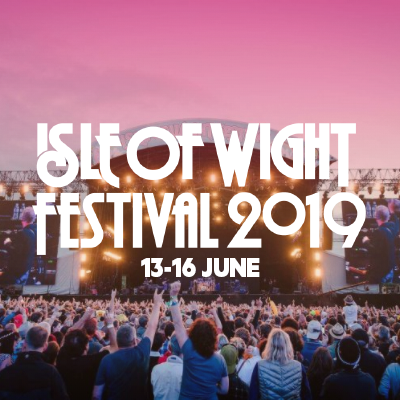 ISLE OF WIGHT FESTIVAL 2019
GENRE: ROCK & POP
DATES: 13 – 16TH JUNE
LOCATION: SEACLOSE PARK, NEWPORT ISLE OF WIGHT, ENGLAND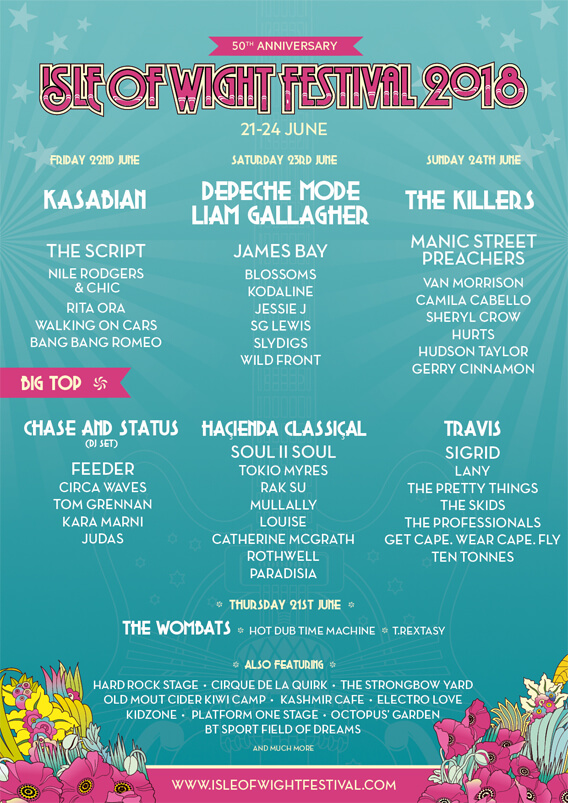 OTHER INFO
HOW TO GET THERE
By foot all you need to do is get yourself to one of the four mainland ferry ports at Southampton, Portsmouth, Lymington or Southsea.
After a short crossing, you will arrive on the Island and you'll be at the Isle of Wight Festival in no time at all.
If you are travelling by car then there are two companies that operate car ferry travel across the water from the mainland to the Isle of Wight. Red Funnel operates a crossing from Southampton to East Cowes (1hr crossing). Wightlink operates two services, one from Lymington to Yarmouth (40min crossing) and the other from Portsmouth to Fishbourne (45min crossing).
All you need to do is book your travel, drive to the ferry terminal, board the ferry in your car, drive off at the other side and follow the directional signage to the Festival. You can park at the Festival site. It's recommended that you pay for your car parking in advance when you buy your Festival ticket.
If you don't fancy driving then the Big Green Coach is once again the OFFICIAL and EXCLUSIVE coach travel partner to the Isle of Wight Festival 2019.
All coaches arrive on Thursday (with additional London service on Friday) and depart the festival on the Monday, direct from the official coach station next to the festival entrance. The coach travels on the ferry so no need to carry your luggage to queue for the shuttle bus!
WHERE TO PARK
If you're travelling by car then follow the directional signage once you've left the ferry.
HOW TO BOOK EVENTS
To book tickets visit the Isle of Whight offical site at https://isleofwightfestival.com/info/tickets
WHY CHOOSE ISLE OF WIGHT FESTIVAL?
The Isle of Wight Festival is the first major festival in the UK summer calendar every year. But the Festival's heritage reaches back over an extraordinary 50 years, is incredibly rich and varied.
The festival began as a series of festivals between 1968 and 1970, and was widely acknowledged as the Europe's equivalent of Woodstock.
Since then The Isle of Wight Festival stages have hosted The Rolling Stones, The Who, David Bowie, Muse, Foo Fighters, Bruce Springsteen, Paul McCartney, Pearl Jam, Kasabian, Amy Winehouse, Kings of Leon, Jay-Z, The Strokes, Coldplay, The Sex Pistols, Fleetwood Mac, The Police, Blondie and Biffy Clyro.